Pseudorabies virus (gB) PCR-detectiekit
Product detail
Productlabels
Pseudorabies virus (gB) PCR-detectiekit (gevriesdroogd)
48 tests / kit, 50 tests / kit
Deze kit maakt gebruik van een real-time fluorescerende PCR-methode om het RNA van het Pseudorabies-virus (gB-gen) (PRV) te detecteren in weefselziektematerialen zoals amandelen, lymfeklieren en milt en vloeibare ziektematerialen zoals vaccin en bloed van varkens. Het is geschikt voor de detectie, diagnose en epidemiologisch onderzoek van Pseudorabies-virus (gB-gen). De kit is een ALL-READY PCR-SYSTEEM (gevriesdroogd), dat het DNA-amplificatie-enzym, reactiebuffer, specifieke primers en probes bevat die nodig zijn voor fluorescerende RT-PCR-detectie.
Componenten
Pakket
specificatie
Ingrediënt

PRV PCR-mix

1 × fles (gevriesdroogd poeder)

 

50 Test

dNTPs, MgCl2, Primers

, Probes, Taq DNA-polymerase

6 × 0,2 ml buis met 8 putjes

(Gevriesdroogd)

48 Test

Positieve controle

1 * 0.2 ml buis (gelyofiliseerd)

 

10Testen

Plasmide of pseudovirus dat PRV (gB) -specifieke fragmenten bevat

Oplossende oplossing

1,5 ml Cryotube

500 ul

/

Negatieve controle

1,5 ml Cryotube

200 ul

0,9% NaCl
(1) De kit kan op kamertemperatuur worden vervoerd.
(2) De houdbaarheid is 18 maanden bij -20 ℃ en 12 maanden bij 2 ℃ ~ 30 ℃.
(3) Zie het etiket op de kit voor de productiedatum en vervaldatum.
(4) Het gelyofiliseerde reagens in poederversie moet na oplossen bij -20 ℃ worden bewaard en het herhaaldelijk invriezen-ontdooien moet minder dan 4 keer zijn.
GENECHECKER UF-150, UF-300 real-time fluorescentie PCR-instrument.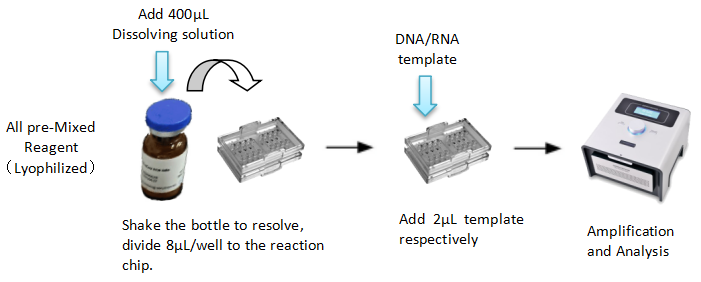 b) 8 well-strip buisversie: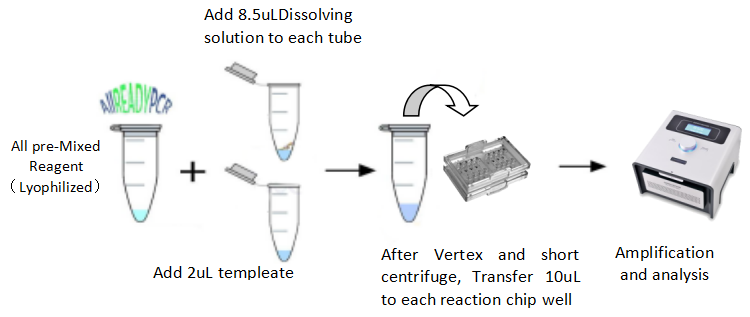 Aanbevolen instellingen
Stap

Fiets

Temperatuur (℃)

Tijd

Fluorescentie kanaal

1

1

95

2 minuten

/

2

40

95

5s

/

60

10 s

Verzamel FAM-fluorescentie
* Opmerking: de signalen van FAM-fluorescentiekanalen worden verzameld op 60 ℃.
Testresultaten interpreteren

Kanaal

interpretatie van resultaten

FAM-kanaal

Ct≤35

PRV (gB) Positief

Ongedaan maken

PRV (gB) Negatief

35<Ct≤40

Suspicious resut, retest*
*If the retest result of FAM channel has a Ct value ≤40 and shows typical "S" shape amplification curve, the result is interpreted as positive, otherwise it is negative.
---
---